PureVPN is a fast and reliable VPN service that offers lightning-fast server speeds of 20Gbps. With thousands of server locations to choose from, it is the ideal VPN for Firestick users.
PureVPN allows you to stream, download, and browse your favorite content without any limitations or restrictions.
With a single subscription, you can connect up to 10 devices simultaneously and enjoy advanced features like split tunneling, kill switch, and a no-log policy.
It is compatible with a wide range of devices including Android and iOS smartphones, Windows and Mac computers, and streaming devices like Amazon Firestick, Google Chromecast, and Roku.
PureVPN Subscription
It offers 3 types of subscriptions. They are
1-Month Subscription: With the 1-month PureVPN subscription, you can enjoy all the features of the VPN service for one month. This plan offers access to all servers and protocols, and you can connect up to 10 devices at once.
1-Year Subscription: The 1-year PureVPN subscription offers the best value for money as it allows you to enjoy the VPN service for a full year at a discounted price. This plan includes all the features of the 1-month subscription, and you can connect up to 10 devices simultaneously.
2-Year Subscription: The 2-year PureVPN subscription is the longest-term plan that PureVPN offers. It provides the most savings and you'll be able to enjoy all the features of the VPN for 2 years. This plan also allows you to connect up to 10 devices simultaneously.
Note: It also offers a limited-time plan at $1.49/ month for 5 years. You can go to the PureVPN official website to subscribe to their plans.
PureVPN Safety Check
PureVPN for Firestick is a safe and secure option for streaming. Independent testing has confirmed that the app is free from malware and spam, and has no issues with SLS and TLS reports. You can confidently install and use PureVPN on your Firestick without any concerns.
How to Download PureVPN on Firestick
PureVPN is available in Amazon App Store, so it can be easily installed on your Amazon Firestick smart TV.
#1 Start by accessing the main menu of your Firestick TV and selecting the "Find" option.
#2 In the search bar, enter "PureVPN" and select the search icon to initiate the search process.
#3 From the search results, select the PureVPN app.
#4 Click the "Download" button to begin the installation process.
#5 Once the download is complete, select "Open" to launch the PureVPN app on your Firestick TV.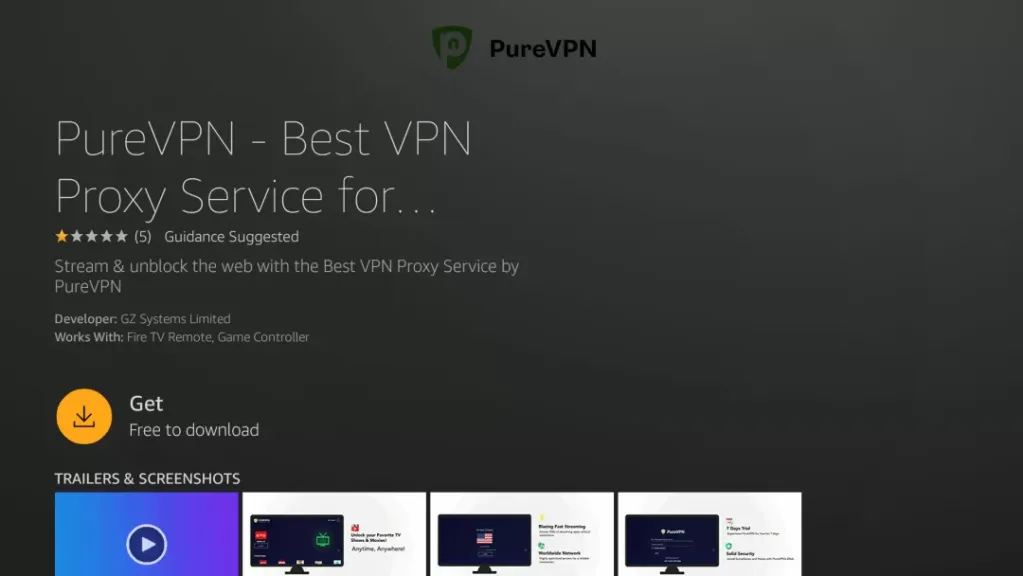 How to Get PureVPN on Firestick using Amazon Website
You can install PureVPN on Firestick from the Amazon website.
#1 Go to Amazon.com using your PC browser.
#2 Select the Search bar and search for PureVPN.

#3 Pick the app from the search results.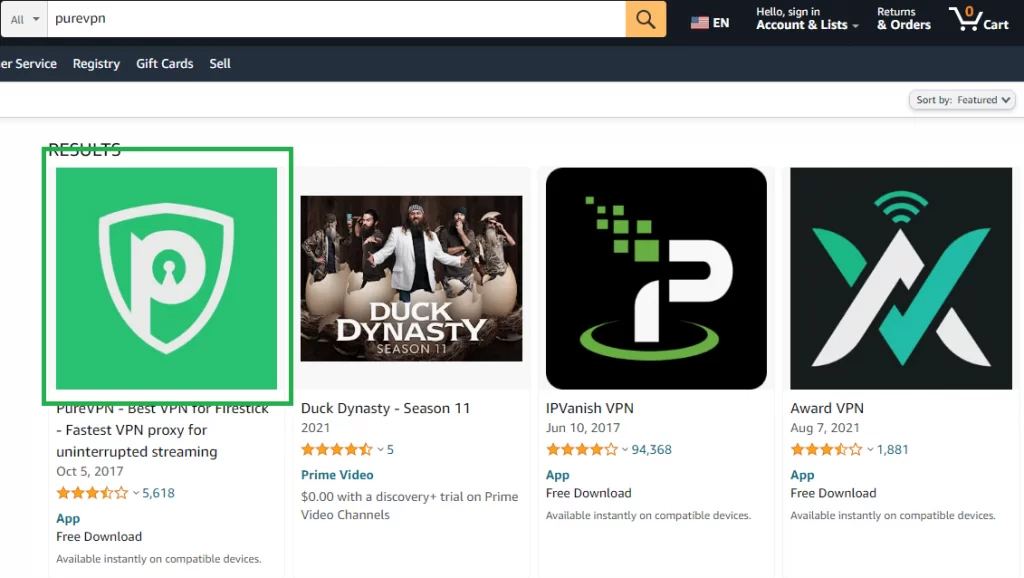 #4 Select the Sign in option on the right side of the page.
#5 Provide your Amazon Account credentials to sign in.
#6 Select your Fire TV device and follow the prompt.
#7 Once done, the app will reflect on your Firestick device.
Note: It may take a few hours to download and install the PureVPN app on a Firestick device.
How to Setup the PureVPN on Firestick
To get started with using PureVPN on your Firestick, you will first need to have a subscription to one of the available plans. Once you have that, you can follow the steps below to set up and configure the VPN on your device. Note that you will need to have the PureVPN app already installed on your Firestick before proceeding with these steps.
#1 On opening the VPN, enter your login credentials and tap login.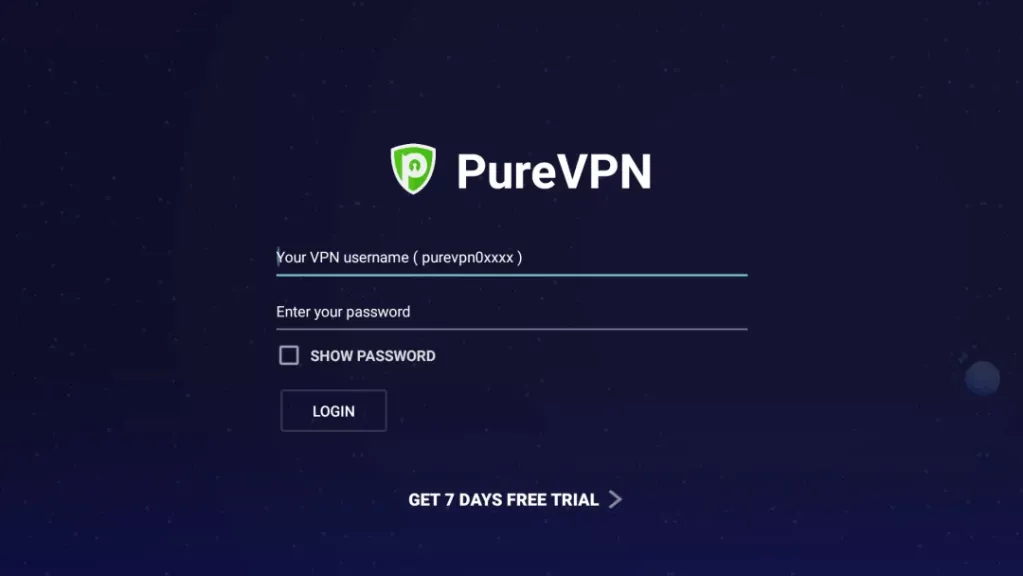 #2 Choose your desired country in the country list.
#3 Click the Connect button on the next screen to connect to PureVPN.
PureVPN is the must-have app on your Firestick. To access all the restricted content, you need to have a VPN like this. Install the PureVPN on Firestick using the above-mentioned instruction and browse without any restrictions.
More About PureVPN
Unlike other VPNs, the features of PureVPN are unique. The features of PureVPN are as follows.
With PureVPN on your Firestick, you can enjoy unrestricted streaming and browsing of online content. PureVPN offers a wide range of servers and IPs in over 140 countries, allowing you to easily switch between them if needed.
Additionally, it is P2P enabled, allowing you to download torrents and other files securely.
PureVPN also features Split Tunneling, which optimizes your browsing speed by splitting your data between your ISP and VPN. If you encounter any issues or errors, you can take advantage of the 24/7 live chat support.
Furthermore, PureVPN offers universal unblocking, allowing you to access popular streaming platforms such as Netflix, Amazon Prime, and Hulu, regardless of your location.
Best Alternatives
NordVPN
ExpressVPN
CyberGhost VPN
Surfshark
Private Internet Access (PIA)
IPVanish
Hotspot Shield
VyprVPN
Windscribe
StrongVPN
These are just a few alternatives to PureVPN, you can find many more VPNs depending on your needs.
FAQ
Is PureVPN a free VPN service?
No, PureVPN is not a free VPN service. It offers a variety of subscription plans for users to choose from.
Does PureVPN support P2P file sharing?
Yes, PureVPN supports P2P file sharing.
Does PureVPN offer a money-back guarantee?
A: Yes, the PureVPN offers money back guarantee.
Is PureVPN good?
Yes, PureVPN is one of the best and most trusted VPNs for Firestick.